Product Description:
Thank you for choose our products. This product is Colorful magic atmosphere lighting and Bluetooth speakers. This product use the high quality Anti broken voice chip, Ultra-low power consumption, Super low frequence.The products attach a unique remote control to control Bluetooth and seven colorful magic lights. The product support TF card, line in. Can be support audio line to connect bluetooth speaker and laptop to play music. With super bluetooth signal.
Products Features:
1: High fidelity stereo Bluetooth speaker.
2: Colorful magic atmosphere lighting.
3: With remote control.
4: Support TF Card, with mp3 format decode function.
5: With Line in.
6: With memory function when power off.
7:Built-in high quality Lithium battery.
Product Operations:
Power on:  Turn 'ON/OFF' key to 'ON" position. The lights bright and voice prompt "THE BLUEOOTH IS READY TO PAIR" means power on successful and waiting Bluetooth to connect, Use the Bluetooth equipment's to search "color ball" to match, After connect successful, The voice prompt THE BLUETOOTH IS CONNECTED SUCCESSFULLY", Then can be use the Bluetooth equipment to play music.
The system will be default the lost Bluetooth equipment automatically when boot up. If cannot be connect in 5 seconds, It will be enter waiting bluetooth connect.
Power off: Turn the ON/OFP key to 'OFF' position.
Remote Control Specification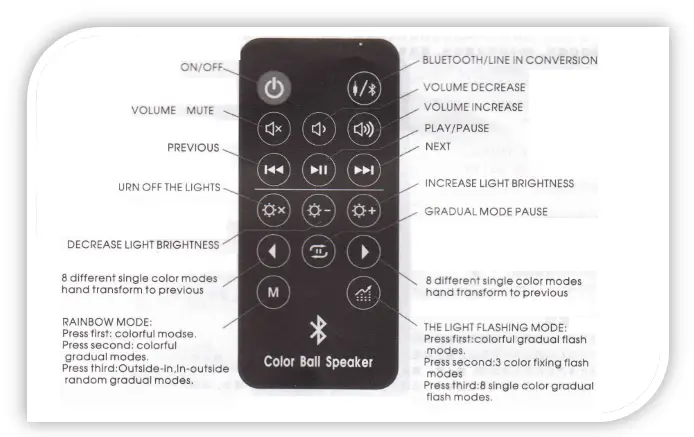 MUSIC MODE:
After the boot up (without TF card) system automatically enter bluetooth mode, Insert TF card, System will be change to TF card play mode, Voice prompt "MUSIC" in same time.
AUDIO INPUT MODE:
Press remote control key when bootup, System voice prompt "LINE IN", Insert the audio plug to player or laptop can be enjoy music.
BATTERY CHARGE AND AUDIO INPUT CONNECT DIAGRAM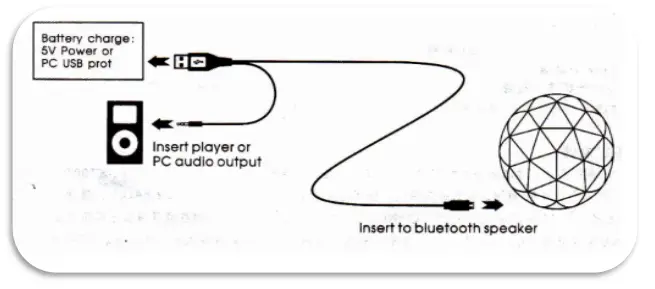 How to charge:
The product with low voltage testing function, When battery low power, Every 60 seconds will be "di,di,di" voice prompt, Please charging ASAP, The product with over charging protection circuit can be connect with the PC or power supply long time to work, When charging, The indicator bright red light. After full charge, indicator will extinguish. The full charge time need 5 hours.
Products Specifications:
Model name: color ball
Out Power: 2x3W
Charge voltage: 5v
Battery: 3.7v 1000MAH
Speaker: 16 core, double magnetic 4Q 3W
Transmission distance: More than 10 meters
Package contents:
Bluetooth speaker x 1 pc
Remote control x 1 pc
Charge and audio input line x 1 pc
User Manual x 1pc
Warning:
Please more carefully to read these instructions and check the attachments before use.
Do not opening or pinching the product avoid damage?
Do not use the product near any heat source, Such as: fire, stove, heater etc.
Do not put in product in any water or other liquid, If long time no use, for best protection, Please put product to cool, dry environment and charge every month.