MoodiCare Clock Manual Living in a fast-paced society brings a lot of pressure and stress to people .How to soothe and relieve these problems has been an important project to researchers and scientists for years. They have discovered that light and color change can bring a significant improvement on these problems. Our cutting-edge product Moodicare clock is made based on that idea. The special features are: it can soothe and relieve your pressure and stress which are caused by many other factors such as work; it is a fully functional alarm clock, it changes colors with 7 different choices. Your mood can be adjusted while the clock's colors are changing. Please enjoy the Moodicare color-changing clock with good mood!.
Backside Instructions
LED Power Supply (AC adapter incoming whole)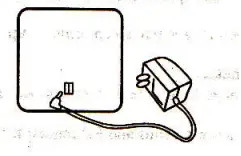 Specifications
Name
MoodiCare Clock
Model no.
 CK-20
LCD power supply
DC 3V(AG13*2)/1mA
 LED power supply
 DC6V(AAA*4)/120mA
Weight
110g (Without battery)
Size
79mm*79mm*78mm
Parts
Clock (1pcs)

Manual (1pcs)

Battery (Optional)

Mains Adaptor (Optional)

 
This product has the function of displaying time, date, week, temperature, especially suitable for family and office
Function
Display time, date (from 2000 to 2099), week, temperature, Support the time format of 12 hours or 24 hours.
Alarm and sleeping function: 8 alarm songs, at the same time activate the same function.
Display environmental temperature: measurement of 0° -55 °C or 32 ° -122 ° F and conversion of Celsius and Fahrenheit temperature.
Color light: send out the light of seven colors with Circular changing.
Operating Instructions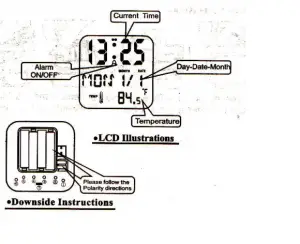 Set time and date :
Normal display when electrified. Press "SET" to activate setting of time and date. Complete setting through pressing UP/DOWN. The sequence is as follows: hour->minute->year->month->day->week->exit.
The range of setting: 1-12 or 0-23 for hour, 0-59 for minute, 2000-2099 for year,1-12 for month,1-31 for day, week will change from MON to SUN automatically with changes of date.
Exit and display time set currently when AL key pressed or not any key pressed for 1 minute on setting condition. Convert between 12-hour and 24-hour display on normal condition.
setting of alarm clock and sleep
Press AL once into alarm mode on normal condition.
Press SET to activate setting of alarm clock on alarm condition. Complete setting through pressing UP/DOWN. The sequence is as follows: hour->minute->sleep->music->exit
Exit and display time set currently when MODE key pressed or not any key pressed for 1 minute on setting condition.
One minute alarm last when time set is up; alarm bell ring when sleep time is up. Press SET to cancel ringing or press any key to stop ringing.
The setting range of delay of sleeping time: 1-60 minutes.
When alarm and sleeping flag is not activated, that is to say both alarm clock and sleep are closed, only when alarm is activated, press UP sleep is valid.
Temperature conversion: Press DOWN to convert between Celsius and Fahrenbeit temperature on normal condition.
Press TAP to turn on evening light and put out automatically.
Colorful light turn on where the switch is ON or DEMO.
D C is allowed:4.5V/100mA transformer.
Attentions
Avoid fierce concussion and falling.
Don't lay in sunlight, high temperature, and damp place.
Don't brush the surface with liquid with erosive ingredient or coarse cloth.
Please reload the button battery when the display is unmoral for pulling out the isolating slice.
Don't mix new battery with the old one. Replace battery when display is not clear.
Put out battery to avoid leak destroying the appliance if used for a long time.
Don't detach inner component.