Are you looking for Fundo SmartWatch User manual then keep on reading this easy to read and follow guide:
Thank you for choosing our smart watch devices. Before using the smart watch, please read the manual carefully for better understanding and usage of the functions and operations.
Bluetooth version, BT4.0
Remark: Please connect the watch to mobile phone via Bluetooth and install Fundo application on your phone successfully before using the watch.
The requirement for mobile phone operation system version
Android users: support the original Android Version 4.44 or higher. (Settings-About Device, view the android version)
IPhone users: support IOS 8.0 or higher. (Please update your phone if it's under IOS 8.0, and you can find the version in mobile phone setting-general-about)
How to download Fundo
How to get the Fundo APK for IPhone and Android users
Way 1 for both Android and IPhone users:
Scan the QR code on watch or user manual through smart phone or QQ sweeping function to download and install on phones: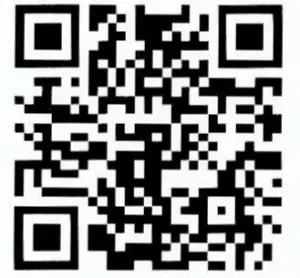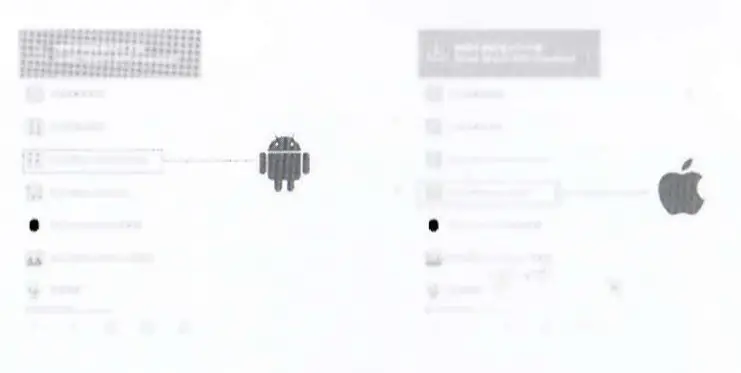 Tips: WeChat only supports OR code scanner to read, doesn't support downloading. Please make sure your phone have enough memory space and the operating system version is supported.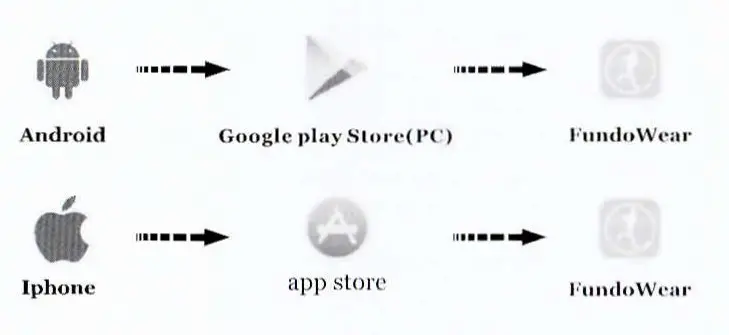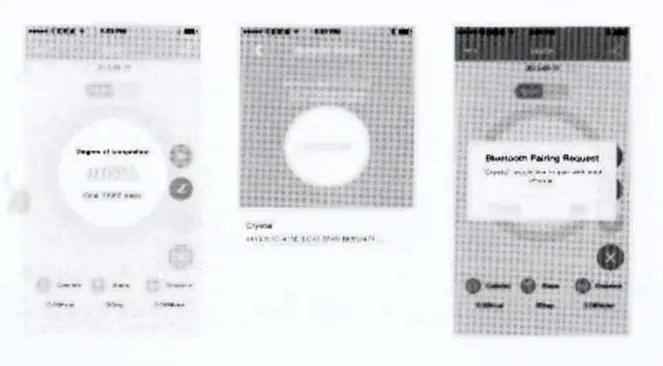 Tips: For IPhone Users, when Fundo occurs flash back, please make sure your location services is on.
Please make sure your Fundo is registered successfully, otherwise data cannot be synchronized between iPhone and the watch. If another device is connected to your phone accidentally, there will be no message prompts during Bluetooth connection. Please go to the settings-about on watch, and check if the Bluetooth device address is the same as your connected device. If not, please choose the right one for Bluetooth connection,
Introduction to Menu Functions
Address Book:
Click on the menu and view all contact list (about 500 contacts) synchronized from your phone, you can quick search for any contact and make calls.
Dial:
Dial via the watch after connecting your phone.
Call record:
All call records could be synchronized with your phone, click on the record to redial.
Message:
Please install Fundo Wear on your phone before using the function. Click on the menu and view all inbox messages, and you can reply to the sender in SMS template as well as calling back (View the SMS menu on IPhone is not allowed due to IOS restrictions.
Notification:
All instant messages could be synchronized from the phonw.
Find phone:
When press the Icon for this function. Phone will respond with alert and vibration.
If the Bluetooth signal is weak, or the phone is more than 10 meters from the watch,  the watch will alert to remind.
Alarm:
You can set up to 5 custom alarms.
Prompt setting: Vibration and ring \Vibration only /Ring only
Calendar:
Enter the calendar interface and slide up and down browse or left and right to exit.
Music:
All songs in the paired phone could be synchronized, and click any song to play, adjust volume, pause, skip and so on. Turn off music player when recording, and Bluetooth needs to be reconnected for music player.
Remote Camera:
Enter into the menu to open the camera on the paired phone (please unlock the phone first).
You can preview the image, click 'shoot', then taken photos will be stored in the paired devices (every phone has a different store path, and pictures may be stored in the albums or memory card. Due to system restrictions, certain phones do not allow viewing pictures at once, while you may view pictures a few minutes later or by restarting the phone.) IPhone does not support this function.
Bluetooth Connection:
Bluetooth Sync: search for the other Bluetooth devices and initiate pairing.
Bluetooth setting: Bluetooth ON/OFF and change device name.
File management:
View the photos, videos, audio files in the watch.
Pedometer:
Normal arm swing will activate step-counting function during walking, the first ten steps will be estimated as one step, which detects whether you are walking or not.
You can sot the target step number in daily exercise (you will be reminded after reaching the target) .
Sleep monitoring:
Sleep-monitoring menu, click 'Start" and then go to bed wearing the watch.
Sleep quickly can be monitored according to vibration amplitude of the watch and duration of sleep and of sleep and, up to 20 records of sleep duration and quality will tar generated and saved automatically every morning.
Style switch:
Different display style or theme
Sedentary reminder:
You can set your own time period (every half hour), and the watch will alert with ring and vibration to remind you after long time sitting
Cardio tachometer & ECG:
Please make sure to wear the watch correctly before measuring and the watch will alert with ring and the watch bottom should be glued tight to the skin.
Please start to measure the heart rate (Please do not move your arm) up to 20 sec will be generated and saved automatically every time.
Record:
You can record and play local audio files
QR Code:
Scan the QR Code with Android phones. Then press download and install the application for the watch.
Stopwatch
Calculator
Settings:
Bluetooth: to activate and tom off Bluetooth
Clock: To set different types of clock and set time and date after closing synchronize functions.
Sound: To customize the notification tone, .aid
Instruction to watch operation:
Slide Button: Long press for switch ON/OFF. Short press once for return to menu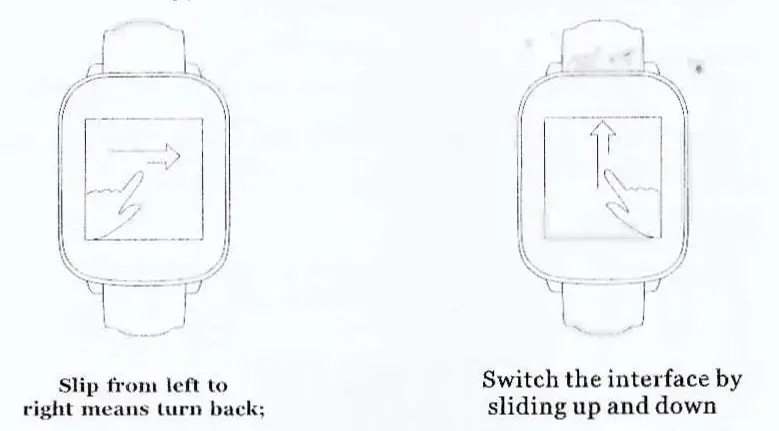 Tips: The battery can't be removed. The device will probably not turn on if not used or charged for over one month.
Improper operation may crash the device, which could be reset by long pressing the power button for 10 seconds.
The example for how to take out the watch from charger