Content:
Power on Instruction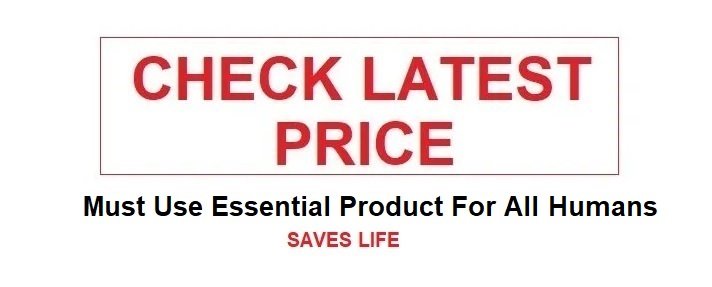 App Connection
Installation
Product Overview
Uoplay 2 Illustration
Rotate Angle
Technical Specifications
Control Panel and Guidelines
Control Panel
Zoom Button
Status Indicator
Functions
Smartphone
Framing Mode Introduction
Following Mode Instruction
Manual Shot Angle Control
Charging Mode Instruction
GoPro Using Guide
Accessories
Counter Weight
Charger
Remote Control
Tripod (optional)
 Firmware Update
Uoplay App Instructions
App Download
App Operation\
Power on Instruction
Prepare
Unscrew the battery Lid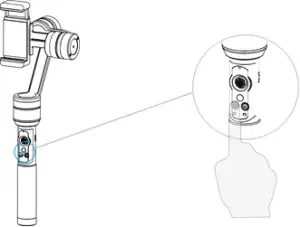 Press & Hold for 2 Seconds
Hold NO/OFF button for 2 seconds the gamble in standby mode with the blue indicator flashing.
App Connection
IOS App                                             Android App
Scanning Barcode to follow the prompts to set up Uoplay App .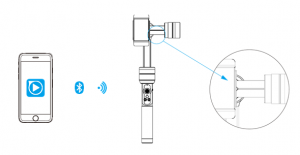 Running the Uoplay App on the phone to connect Uoplay 2
(Default bluetooth name is AiBird Uoplay ).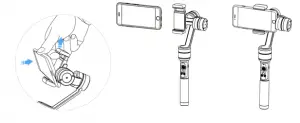 Stretch Uoplay 2 mobile phone clip, then insert your mobile device into the clip
Single click ON/OFF button, the gimbal in half-following mode with red indicator stays on.
Product Overview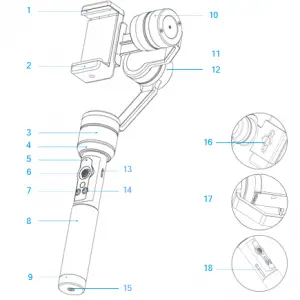 1 Stretchable End of Phone Clip
2 Mobile phone clip
3 Yaw axis motor
4 Handle connect ring
5 Gimbal status indicator
6 Four direction joystick
7 ON/OFF button
8 Handle cover
9 Battery lid
10 Pitch axis motor
11 Extendable mobile clip arm
12 Roll axis motor
13 Zoom Button
14 Camera/Mode Button
15 1/4 inches universal screw hole
16 Mobile phone mount
17 Mobile phone charging port
18 Gimbal charging port
Rotate Angle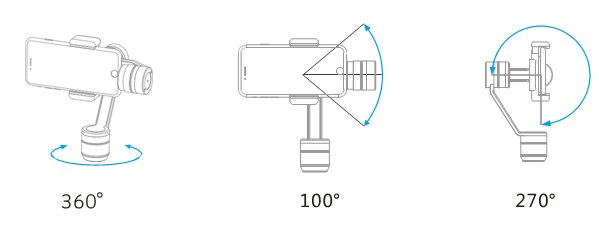 | | |
| --- | --- |
| Product name: | Uoplay 2 |
| Dimensions: | 102x112x302mm |
| Weight:               | 380g |
| Power consumption: | static 0.9W dynamic 1.2W |
| Voltage:              | min: 3.5V Standard: 3.8V max: 4.2V |
| Current: | min: 230mA standard: 250mA max: 320mA |
| Battery Working Hours: | min: 3h standard: 4h max: 5h |
| Angle difference:             | ±0.03° |
| Axis range: | Pitch:310° Yaw:360° Roll:310° |
| Maximum rotation speed: | 50°/s |
Control Panel and Guidelines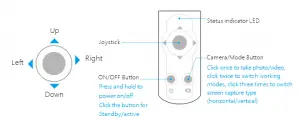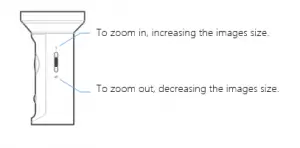 | | |
| --- | --- |
| Working Mode | Indicator Status |
| Standby Blue | light breathing |
| Semi/Half-Following Mode | Red light stays on |
| Fully-Following Mode | Green light stays on |
| Locked Mode | Blue light stays on |
| Low Power | Red light flashes then shutdown |
| In Charging | Red light breathing (only display when gimbal is turned off) |
| Charging Completed | Green light breathing (only display when gimbal is turned off) |
Functions
Smart Phone Framing Mode Introduction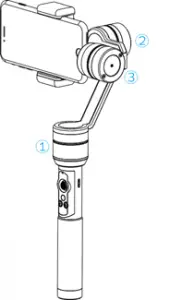 Horizontal Framing Mode (Default Mode)
Panning Motor
Rolling Motor
Pitching Motor
Vertical Framing Mode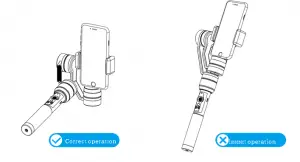 Please do not make No.1 motor and No.3 motor completely overlapping
in vertical framing mode
Following Mode Instructions
Mode of "Semi- following ": The heading rotates with the direction of the handle smoothly (Fig. 1); both the rolling and the pitching (Fig. 2) are locked.
UP-DOWN directional key to Control Pitching
LEFT-RIGHT directional key to Control Rolling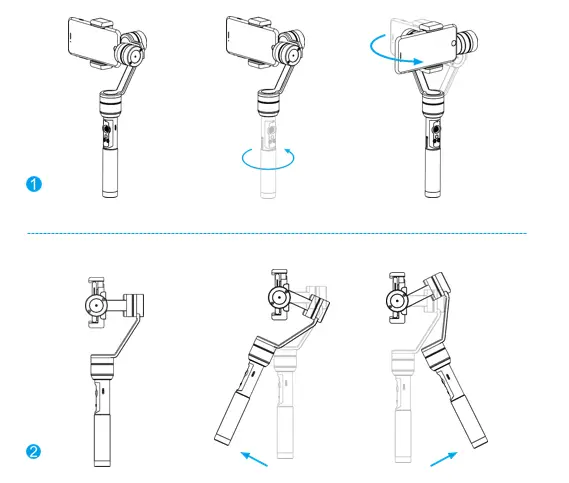 Mostly used for horizontal shooting and lower angle shooting. The camera shall rotate with the bilateral rotation of the gimbal
Mode of "Semi-following ": The rolling is locked; both the heading (Fig. 3) and the pitching (Fig. 4) rotates with the direction of the handle smoothly.
UP-DOWN directional key to Control Pitching
LEFT-RIGHT directional key Locked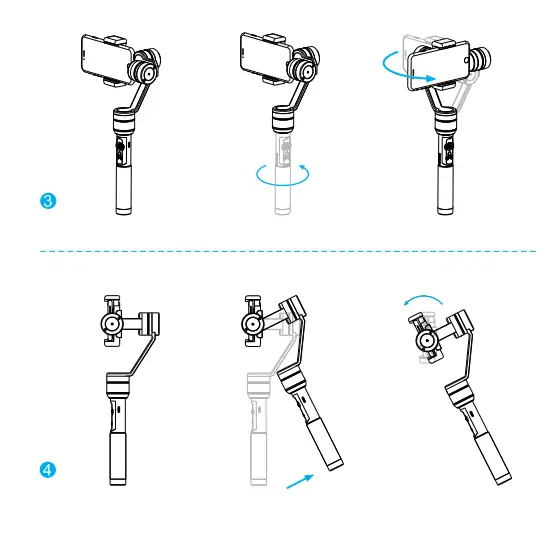 Perfect for motion shooting under the conditions of move status(up/down,left/right) or the photography is in ascend and descend (like upstairs and down stairs).Rotating gimbal left-to- right or up and down, the camera will move gradually following gimbal movement
"Lock" mode: The heading (Fig.5), pitching (Fig. 6) and rolling are all locked, and the mobile phone shall not move with the Uoplay'sleverarm.
UP-DOWN directional key to Control Pitching
LEFT-RIGHT directional key to Control Panning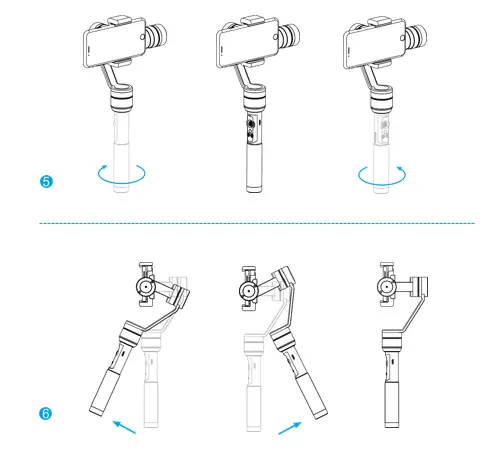 Apply to horizontal photography, the camera always toward forward while rotating gimbal in up-down and right-left.
Mutual Short Angle Control
Mutually control the pitching or panning angle of the gimbal to IOCK the shooting angle.
Charging mode Instruction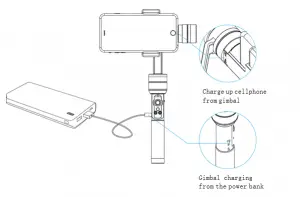 Please embed the Gopro under the mode of "Vertical shooting".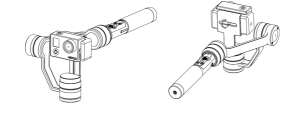 Accessories
Counter weight instruction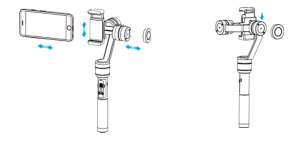 Using large screen mobile devices like the iPhone Plus, requires the installation of counter weights to balance.
Install the counterweights.
 (Please adjust the counter weights after switch to vertical mode when using large screen phones like iPhone Plus)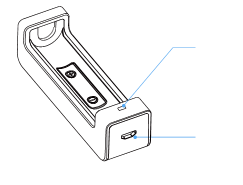 Charger specifications
Input: DC5V/1000mA
Output: DC4.2V/1000mK 1
Lithium-ion battery
Model: 18650 lithium battery
Capacity 2600 mAh
Charging time: 1.8h
Note: You may use phone charger adapter or power bank to charge up 18650 lithium battery.
Remote Control Instructions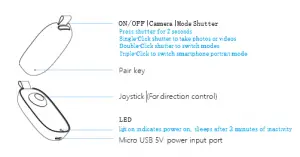 Remote needs to pair with gimbal when using first time.
How to pair
Turn on the remote (Notice: Do not boot Uoplay yet!)
Press the shutter until the LED stays blue.
Pin the little pair key at the back of the remote, the blue light will flash.
Pairing complete
Hold down ON/OFF button to power on gimbal, the gimbal in standby mode with blue indicator flashing, at the same time, the gimbal is pairing automatically, the pairing is done if the blue indicator of remote controller stays on. Otherwise, repeat the above process!
Tripod Optional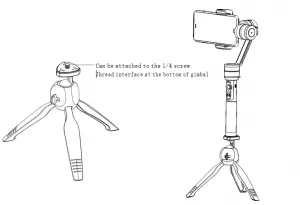 Update
Please download the update files on website
Red light flashes when updating in processing .The flashing stops once the updating complete. (www.aibird.com)
Uoplay App Instruction
This product requires App connection while operation, please refer to App Connection in Power on Instruction to download and install Uoplay App.
Uoplay App requires to use mobile phone running IOS 8.0 or Android 4.1.2 and above. •
App Operation (Camera interface)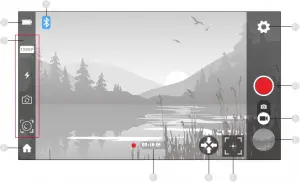 Bluetooth Connection
Display the connection status of Bluetooth choose the right Uoplay gimbal model and connect to    device.
Gimbal power monitor
The remaining power of the gimbal is displayed here.
Menu Bar
 Filming Mode

Time-lapse                                                                                     Motion Time-lapse
Return to home page
Video Duration
Hide Icons Show Icons
Smart tracking: tap select the tracking target on the screen, Uoplay will enter into tracking mode and follow the movement of the object.
Albums
Photo/Video switching
Shutter/Filming button
Setting button