Table of Content
1
asus router default password

 

2
ASUS Wireless Router Setup User's Guide
3
Factory default reset of ASUS Router
| | | |
| --- | --- | --- |
| Login Name | Password | IP Address |
| admin / admin | 192.168.1.1 | 192.168.1.1 |
| | | |
| --- | --- | --- |
| Wireless Router | Login Name | Password |
| ASUS GT-AX11000 | admin | admin |
| ASUS GT-AX6000 | admin | admin |
| ASUS RT-AX56U | admin | admin |
| ASUS RT-AX58U | admin | admin |
| ASUS RT-AX82U | admin | admin |
| ASUS RT-AX88U | admin | admin |
| ASUS RT-AX89X | admin | admin |
| ASUS RT-AX95U | admin | admin |
| ASUS 4G-AC55U | admin | admin |
| ASUS 4G-AC68U | admin | admin |
| ASUS BRT-AC828/M2 | admin | admin |
| ASUS Blue Cave | admin | admin |
| ASUS CM-32 | admin | admin |
| ASUS GT-AC2900 | admin | admin |
| ASUS GT-AC5300 | admin | admin |
| ASUS GT-AC5400 | admin | admin |
| ASUS GT-AC9600 | admin | admin |
| ASUS RT-AC1200 | admin | admin |
| ASUS RT-AC1200 v2 | admin | admin |
| ASUS RT-AC1200G | admin | admin |
| ASUS RT-AC1200GP | admin | admin |
| ASUS RT-AC1200GU | admin | admin |
| ASUS RT-AC1200HP | admin | admin |
| ASUS RT-AC1750 | admin | admin |
| ASUS RT-AC1900 | admin | admin |
| ASUS RT-AC1900P | admin | admin |
| ASUS RT-AC3100 | admin | admin |
| ASUS RT-AC3200 | admin | admin |
| ASUS RT-AC42U | admin | admin |
| ASUS RT-AC51U | admin | admin |
| ASUS RT-AC52U | admin | admin |
| ASUS RT-AC52U B1 | admin | admin |
| ASUS RT-AC53 | admin | admin |
| ASUS RT-AC5300 | admin | admin |
| ASUS RT-AC53U | admin | admin |
| ASUS RT-AC54U | admin | admin |
| ASUS RT-AC55U | admin | admin |
| ASUS RT-AC55UHP | admin | admin |
| ASUS RT-AC56S | admin | admin |
| ASUS RT-AC56U | admin | admin |
| ASUS RT-AC57U | admin | admin |
| ASUS RT-AC58U | admin | admin |
| ASUS RT-AC65P | admin | admin |
| ASUS RT-AC65U | admin | admin |
| ASUS RT-AC66U | admin | admin |
| ASUS RT-AC66U B1 | admin | admin |
| ASUS RT-AC68P | admin | admin |
| ASUS RT-AC68U | admin | admin |
| ASUS RT-AC68U Extreme | admin | admin |
| ASUS RT-AC68UF | admin | admin |
| ASUS RT-AC750 | admin | admin |
| ASUS RT-AC750GF | admin | admin |
| ASUS RT-AC85P | admin | admin |
| ASUS RT-AC85U | admin | admin |
| ASUS RT-AC86U | admin | admin |
| ASUS RT-AC87U | admin | admin |
| ASUS RT-AC88U | admin | admin |
| ASUS RT-AC95U | admin | admin |
| ASUS RT-ACRH13 | admin | admin |
| ASUS RT-ACRH15 | admin | admin |
| ASUS RT-ACRH17 | admin | admin |
| ASUS RT-ACRH26 | admin | admin |
| ASUS SRT-AC1900 (ASUS OnHub) | admin | admin |
| ASUS TM-AC1900 | admin | admin |
| ASUS VZW-AC1300 | admin | admin |
| ASUS AAM6020VI-FI | admin | admin |
| ASUS AM200g | admin | admin |
| ASUS AM604g | admin | admin |
| ASUS DSL-AC52U | admin | admin |
| ASUS DSL-AC56U | admin | admin |
| ASUS DSL-AC68U | admin | admin |
| ASUS DSL-AC87VG | admin | admin |
| ASUS DSL-AC88U | admin | admin |
| ASUS DSL-G31 | admin | admin |
| ASUS DSL-N10 | admin | admin |
| ASUS DSL-N10E | admin | admin |
| ASUS DSL-N11 | admin | admin |
| ASUS DSL-N12E | admin | admin |
| ASUS DSL-N12U | admin | admin |
| ASUS DSL-N12U rev B1 | admin | admin |
| ASUS DSL-N13 | admin | admin |
| ASUS DSL-N14U | admin | admin |
| ASUS DSL-N16 | admin | admin |
| ASUS DSL-N16U | admin | admin |
| ASUS DSL-N17U | admin | admin |
| ASUS DSL-N17U B1 | admin | admin |
| ASUS DSL-N55U | admin | admin |
| ASUS DSL-N55U C1 | admin | admin |
| ASUS DSL-N66U | admin | admin |
| ASUS RT-N53 | admin | admin |
| ASUS RT-N54U | admin | admin |
| ASUS RT-N56U | admin | admin |
| ASUS RT-N56U B1 | admin | admin |
| ASUS RT-N600 | admin | admin |
| ASUS RT-N65U | admin | admin |
| ASUS RT-N66U | admin | admin |
| ASUS RT-N66U C1 | admin | admin |
| ASUS RT-N66W | admin | admin |
| ASUS RT-N76U | admin | admin |
| ASUS 4G-N12 | admin | admin |
| ASUS RT-G32 rev B1 | admin | admin |
| ASUS RT-G32 rev C1 | admin | admin |
| ASUS RT-N10 rev A1 | admin | admin |
| ASUS RT-N10 rev C1 | admin | admin |
| ASUS RT-N10 rev D1 | admin | admin |
| ASUS RT-N10+ rev B1 | admin | admin |
| ASUS RT-N10+ rev D1 | admin | admin |
| ASUS RT-N10E | admin | admin |
| ASUS RT-N10E B1 | admin | admin |
| ASUS RT-N10P | admin | admin |
| ASUS RT-N10P V2 | admin | admin |
| ASUS RT-N10U | admin | admin |
| ASUS RT-N10U B | admin | admin |
| ASUS RT-N11 | admin | admin |
| ASUS RT-N11P | admin | admin |
| ASUS RT-N11P B1 | admin | admin |
| ASUS RT-N12 rev A1 | admin | admin |
| ASUS RT-N12 rev B1 | admin | admin |
| ASUS RT-N12 rev C1 | admin | admin |
| ASUS RT-N12 rev D1 | admin | admin |
| ASUS RT-N12+ B1 | admin | admin |
| ASUS RT-N12E | admin | admin |
| ASUS RT-N12E B1 | admin | admin |
| ASUS RT-N12E C1 | admin | admin |
| ASUS RT-N12HP | admin | admin |
| ASUS RT-N12HP B1 | admin | admin |
| ASUS RT-N12K | admin | admin |
| ASUS RT-N12VP | admin | admin |
| ASUS RT-N13 | admin | admin |
| ASUS RT-N13U | admin | admin |
| ASUS RT-N13U B1 | admin | admin |
| ASUS RT-N14U | admin | admin |
| ASUS RT-N14UHP | admin | admin |
| ASUS RT-N15 | admin | admin |
| ASUS RT-N15U | admin | admin |
| ASUS RT-N16 | admin | admin |
| ASUS RT-N18U | admin | admin |
| ASUS RT-N300 | admin | admin |
| ASUS RT-N300 B1 | admin | admin |
| ASUS RT-N800HP | admin | admin |
| ASUS WL-330N3G | admin | admin |
| ASUS WL-330NUL | admin | admin |
| ASUS WL-500W | admin | admin |
| ASUS WMVN25E2+ | admin | admin |
| ASUS RT-G32 rev A1 | admin | admin |
| ASUS WL-500g | admin | admin |
| ASUS WL-500g Deluxe | admin | admin |
| ASUS WL-500gP v1 | admin | admin |
| ASUS WL-500gP v2 | admin | admin |
| ASUS WL-520g | admin | admin |
| ASUS WL-520gC | admin | admin |
| ASUS WL-520gU | admin | admin |
| ASUS WL-530g | admin | admin |
| ASUS WL-530gV2 | admin | admin |
| ASUS WL-550gE | admin | admin |
| ASUS WL-566gM | admin | admin |
| ASUS WL-600g | admin | admin |
| ASUS WL-700gE | admin | admin |
| ASUS WL-500 | admin | admin |
| ASUS WL-500b | admin | admin |
ASUS Wireless Router Setup User's Guide
1-Get to know the ASUS router
A-Tech Specs – Connections and Expansion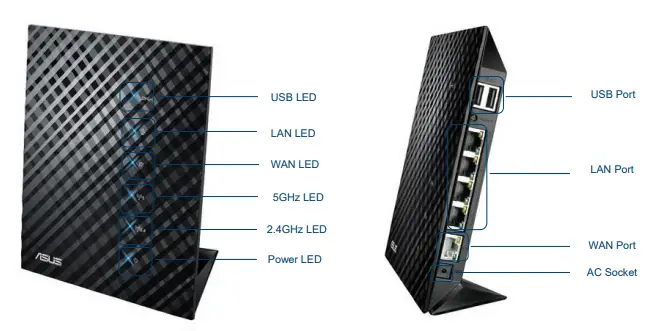 Minimum System Requirements (bb500/ FibreHome500/ bb1000/ FibreHome1000)
To ensure that you have a fast and stable network, please refer to the following as a recommended minimum system requirement.
| | |
| --- | --- |
| Central Processing Unit (CPU) |  Intel Core2 Duo P8700/2.5 (3 GHz or above) |
| System Memory | 4GB or above |
| Hard disk | 64GB SATA II SSD (Min. I/O speed of 200MB/s) |
| Network Adaptor |  100/1000M Network Adaptor |
2 Connecting to ASUS router
Make sure you have a LAN cable connected from the HKBN wall plate/ONT to the WAN port of your ASUS Router (RT-N56U). Using a second LAN cable, connect it from the Router LAN port to the computer LAN port. Once finished, switch on the power supply for the router and turn on the computer.
Open your Internet browser, and input [http://192.168.1.1] into the address-bar then press [Enter]. Enter [admin] as the default user name and password, click [OK].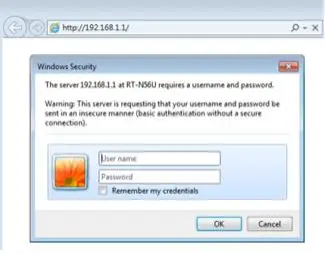 After login, press [Go] to start the setup.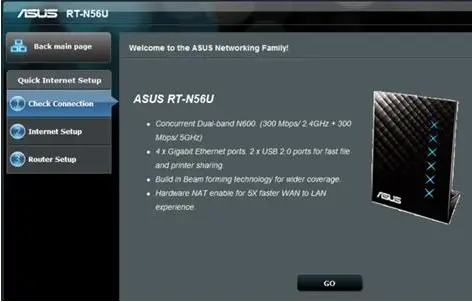 Create a [Router Login Name] and [Password] then press [Next] to continue to the connection setup.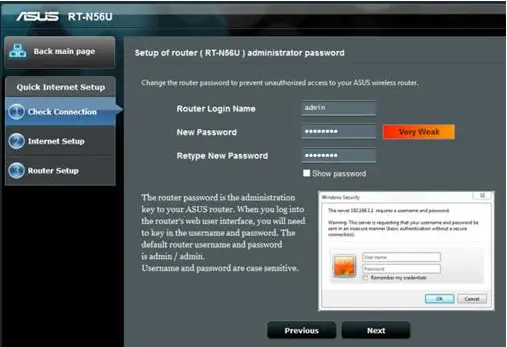 ASUS Wireless Router (RT-N56U) supports both 2.4GHz and 5GHz wireless connections. After creating the network name (SSID) and security key, it is recommended that you choose [Copy 2.4GHz to 5GHz settings], then click [Apply] to finish.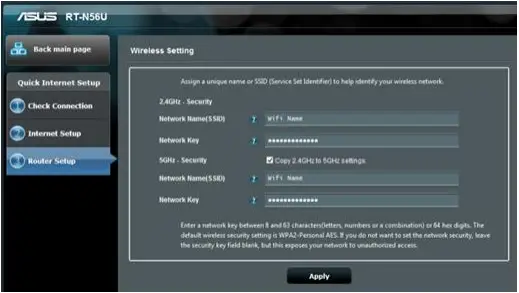 Confirm all settings displayed are correct in the Network Configuration Summary then click [Next].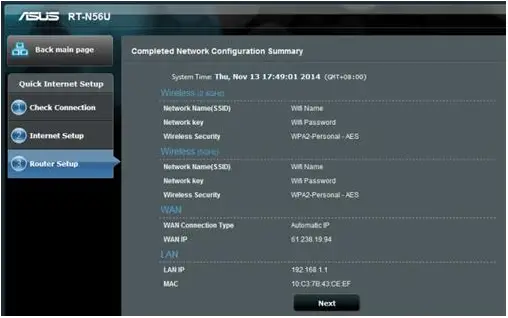 Before the new settings can be applied, the router will again ask for an authentication done by entering your new Login name and Password.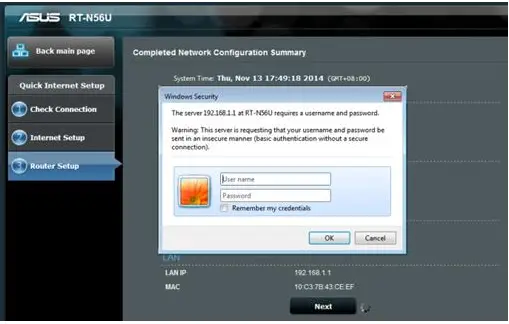 3.Switching your broadband Internet service to HKBN
After logging in to the router through your browser, select [WAN] under [Advanced Settings] of router settings page. Choose [Automatic IP] under [WAN Connection Type], then click [Apply] to update the setting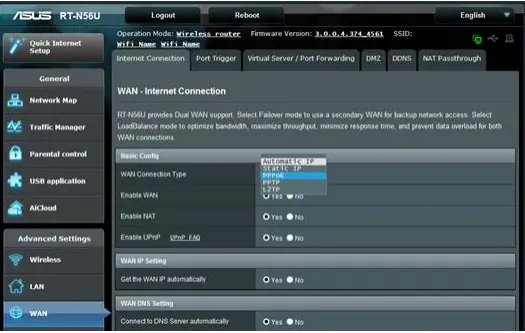 4.Factory default reset of ASUS Router
If the device is not accessible from the router setting page, you can reset to the factory default setting by pressing the reset button.
1. Confirm your TP-LINK router is switched on.
Press and hold the [Reset] button with a sharp object for 5 seconds, then release the [Reset] button and wait the router to reboot to its factory default settings.
Default Setting
| | | |
| --- | --- | --- |
| Login Name | Password IP Address | SSID |
| admin / admin | 192.168.1.1 | ASUS |
ASUS Wireless Router (RT-N56U) – The Reset Button is located to the next to USB port