Partial View
Short press to play previous song, long press for volume down.
To play/Stop playing music; Answer/Hang up the Phone Call under Bluetooth Model
Short press to play next song, long press for volume up
Short press to change the model (Bluetooth-FM-LINE IN-TF CARD)
Power /charging indicator light,
Speakers
MIC
Bluetooth/Charging indicator light
Lab mat
LINE IN
USB interface (power output)
Power Switch: Switch On/Off;
Micro USB interface for charge
TF CARD interface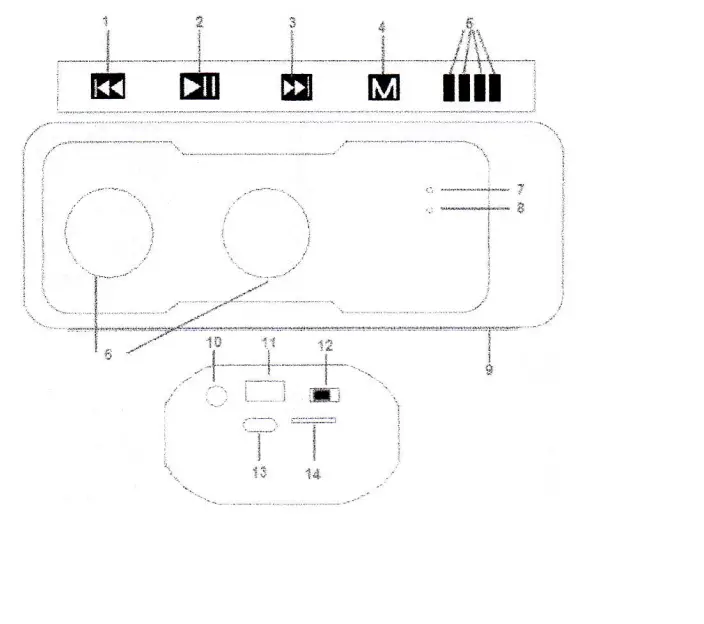 Function Introduction
The Bluetooth connection
Computer connection: first of all, the computer needs to have built-in Bluetooth, don't need an external Bluetooth adapter, and updates the Bluetooth driver, Open the Bluetooth speakers, computer search Bluetooth audio device name: JL BT, matching can achieve Bluetooth play after the connection is successful.
Mobile phone connection: open the phone's Bluetooth function, search the Bluetooth audio device name: JL BT, matching after the connection is successful can be played out and calls hands-free Bluetooth function.
The TF card play: playing songs in MP3 format which saved in TF card.
The LINE IN function: connection device 3.5 MM audio interface, easy to complete with PC/IPOD/PHONE/MP3 / MP4R perfect docking (short press the "M" key to switch to the LINE – IN mode).
Radio mode: short press the 'M' key to switch to radio mode, long press the 'Pause" button can realize automatic radio channel, after the success will automatically play.
The power bank: device connected to this equipment must charge, after the mobile power indicator will light up, said twenty-five percent of this equipment electricity per lamp.
Parameter
| | |
| --- | --- |
| Battery voltage | 3.7V 4000MAH |
| Charging time | 8 hours |
| Loudspeaker size | 40MM x 2, 4Q3W |
| Unit weight | 260G |
| Product size | 160*60*36mm |
Troubleshooting
Hand free call is only available at BT connected status: Still the phone call could be interfered with high frequency electromagnetism. People should try not to use this product under high frequency environment.
Bluetooth is a bidirectional transmitting protocol; transmitting distance is highly related to audio player. Compatible BT players are recommended.
Some terminal players are without automatically switching play functional this case, POP noise will exist in the interval of every 2 songs.
When BT transmitting devices cannot be connected, please delete the rest BT receiving devices name on the list. Re-active Lepa-searching an re-paring.
The sound performance could also be affected when BT transmitting devices is under poor signal environment, or under low battery capacity.
Touch the ineffective: hands don't put on the touch panel, restart the Bluetooth speaker.